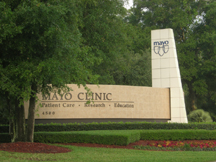 On behalf of the Partners Actively Lending Mayo Support Committee welcome to our webpage.
This website was created with the families of the Mayo Clinic medical community in mind.
We are very happy to have this new way to keep in touch. Please take advantage of some of the features available. For example:
We are currently working on material for our "Blog". Please feel free to check it out and write a comment, or simply read the information on the threads that are already there.
Keep logging in periodically since we intent to add diverse topics related to the history of the Clinic as well as photos and news about our new hospital.
Also, take a moment to visit our "Contact Us" page and use our brand new "PALMS E-mail Station"which is the fastest and easiest way to get in touch with us.
Your Name, e-mail and comments will be directly e-mailed to us.
We love to hear from you!